HISTORY OF THE FAMOUS
LASAGNA BOWL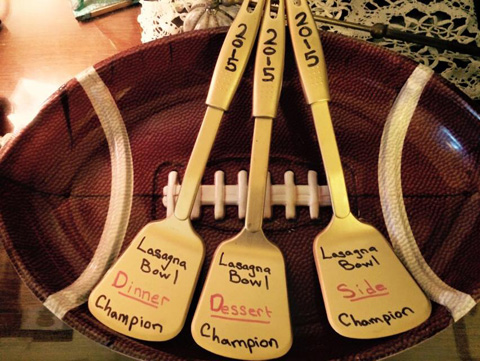 Today marks the 10th annual Saggese Lasagna Bowl. Originally named the Saggese SUPER Lasagna Bowl as it took place on Super Bowl Sunday. Once this grand event became more popular than the Super Bowl itself, we moved to Saturday.

Those first few years were full of far too much fun, far too many drinks and far too full bellies to really remember all the details. When Lasagna-Gate struck in 2010 we lost all our hard drives and records so we are still piecing back together who actually won those years.

Back then we didn't have any children to worry about and our biggest concern was what was for lunch on Monday. And when we realized lasagnas came in all shapes and sizes we created this contest.

Over the years the categories have changed from Traditional to Dinner to Dessert to Creative and Honorable Mention. And every year the gluttony has provided for more glory.

We have had sunny days and rainy days cold days and warm ones but with the backyard and happy confines of the inside we have always had the best of times.

Pretty sure Robert won the very first one, with the help of Mellow Mushrooms ingredients. The Gorski family are by far the supreme winners of the most Golden Spatulas. Katy Durkin redefined lasagnas along with Ryan Beckstein as they dove into the creative and dessert realm. We have had one timers come and win, never to see seen again. And everyone loves that the Herricks continue to enter fried chicken. The Saggese home is proud to hang one golden spatula and this year we look forward to another.

It's with great thanks to all our supporters that this tradition has continued for 10 years. We truly look forward to the comrade, the trash talk and being able to see friends that maybe we don't get to see as often anymore. So let the layering begin and here's to another 10 years!